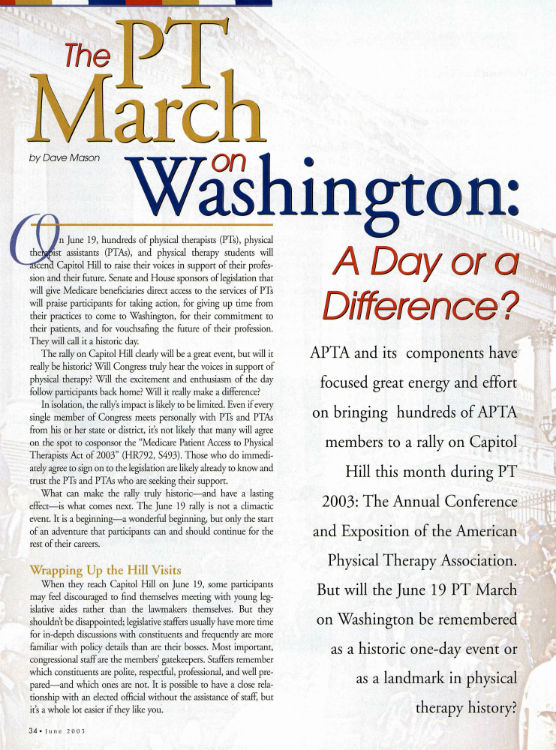 In 2003 APTA and its components were working to push through two important pieces of legislation. One, the Medicare Patient Access to Physical Therapists Act, would provide for direct access to physical therapists under Medicare, and the other, the Medicare Access to Rehabilitation Services Act, would repeal the Medicare therapy cap. Both were critical causes for the profession.
APTA wanted to do something to harness the power of membership and amplify the voice of the profession, and the idea to host a rally on Capitol Hill, inviting members from across the country to attend, was born. When APTA staff and the association's Federal Government Affairs Committee first started discussing the idea, they had hoped for a total of maybe 500 physical therapists, physical therapist assistants, and PT and PTA students to attend and afterward conduct perhaps 200 visits to congressional offices on Capitol Hill. Those goals were significantly exceeded.
The rally took place on June 19 and, thanks to extraordinary vision, planning, and execution, more than 2,000 members attended and nearly half spent the day on Capitol Hill taking part in more than 500 meetings with members of Congress and their staffs. APTA's Board, the Federal Government Affairs Committee, component officers, state liaisons, key contacts, state coordinators, National Assembly and Student Assembly members, program directors, faculty members, and scores of enthusiastic PTs, PTAs, and PT and PTA students from all over the country came together and formed a force to be reckoned with. They told their members of Congress about patients who were being denied services because of limitations imposed by the Medicare therapy cap and by referral requirements. They were there to be the voices of their patients. They were there to speak up, to get bill sponsors, to make a difference.
The rally and Hill visits were the largest staff-coordinated project in the history of the association to date. And while the two bills pushed at the rally weren't passed that year, a passion for advocacy was sparked, and APTA members who had never even visited a member of Congress began volunteering to work on campaign committees. Today, APTA regularly trains members to be effective advocates and connects them with their representatives on Capitol Hill.