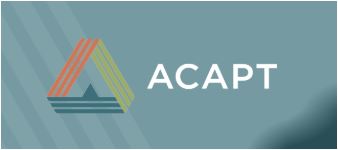 The American Council of Academic Physical Therapy (ACAPT) was formed to provide a unified voice for academic physical therapy — supporting excellence in research and scholarship, professional and community service, and academic and professional leadership.
Previously, academic institutions were represented through a special interest group of academic administrators within APTA's Education Section (later renamed the Academy of Physical Therapy Education). In 2009, a petition was presented to the APTA Board of Directors to form a new council to promote excellence in physical therapy education and to be the voice of academic physical therapy inside and external to the association. After bylaws changes were instituted, what initially was the Academic Council of the Board of Directors became a full-fledged component of APTA after formal approval by the House in 2013.
ACAPT's first priority was identified as providing resources and guidance to academic institutions, and addressing such issues as: appropriate and effective administrative structures; how academic programs can support faculty excellence in research and scholarship; leadership training for future clinicians and faculty; community needs that are best met in partnership with academic physical therapy programs; how academic programs can contribute to resolving societal problems such as lack of accessibility to physical therapist services, health disparities, and affordability in health care; whether academic physical therapy is appropriately structured to meet workforce needs for physical therapy now and in the future; whether it has the capacity to train sufficient numbers of faculty for the future; and whether academic institutions are preserving and appropriately communicating the value of an education for new physical therapists in the face of both increasing student loan debt and pressures in the job market. ACAPT was created to facilitate innovation and help academic institutions optimally address issues such as these.